27 May 10
Posted at 7:26
So last friday I tested out the new Impossible Project Polaroid replacement film. As soon as it came in too Fat Buddha in Glasgow,I wanted to try it out.
I had followed what Kevin at Garage Studios has done with the PX100,even thought the cameras are diffrent the film should be very similar.
As much as I love shooting digital,there's this facination with instant film that I love. Something about taking the picture and then a few mintues later you have a hard copy in your hand.
Below is was my wonderful model for the day Stephanie - Took using Color 600 Polaroid Film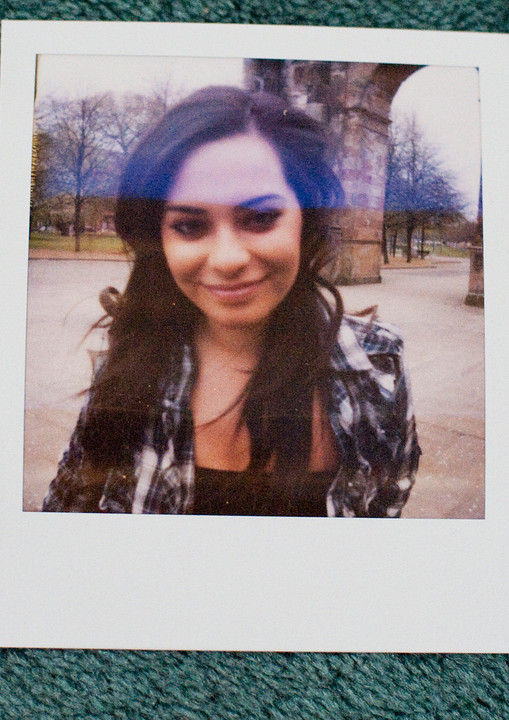 Its a shame polaroid stopped making film but when this project was announced last year I was super happy that maybe some time soon I too would be using polaroids again.
So at £25 a pack for 8 shots I was expecting good results,but having already saw what Kevin had got with his I was a little unsure If I was going to get anything better or like the old Polaroid color film I have used.
Having kindly been gifted a Polaroid 600 Camera by Danny Gartside,I was ready to go.
The following test turned out nothing like I was hoping though. I followed the process for developing as the film is very sensitive to light and heat these can also be factors in the way that it turn out too.
The massive problem is though that light is a big factor and you need to cover the shot as soon as it comes out the camera,I managed to work out a good way to do this and with my black developing bag i was off.(The Bag isnt anything special either its a black none see through carrier bag,technical is what your thinking I know)
Another issue as I mentioned is that heat can also affect it too,so if its too hot or too hot you can get pictures just not turning out. The temp that your meant to shoot at is between 17 degrees and 24 Degrees C Which is fine if you live in a good climate where its that kinda of temp all the time,Im the uk or scotland where I am I just isn't like that.
So apart from these hurdle you would think it would be easy well not yet it isnt. Theres a list of steps that need to followed but as you use the film and become use to it,I think you pick up your own techniques.While still following impossibles guidelines.
On this day I shot outside,the day was cloudy but bright and temperture wise it wasnt too cool either,I also used flash and no flash too.I shot against various items ie walls,trees and just in open space and seemed to get the same results from both packs. NOTHING.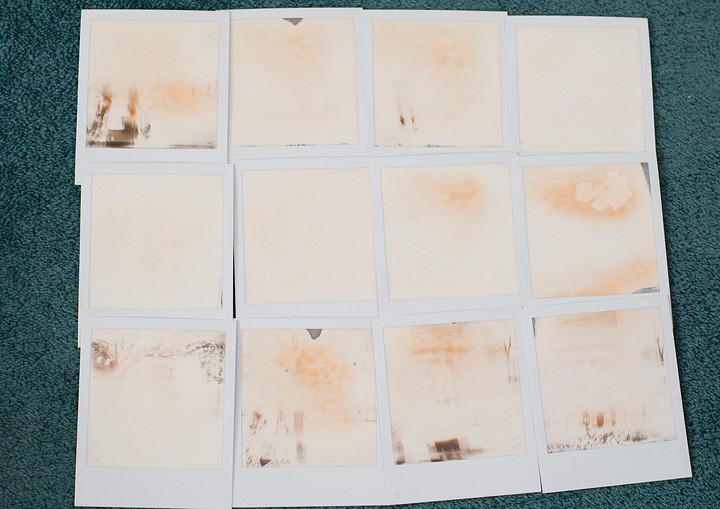 Yep no one picture from the shoot came out 14 shots,all white or with very very slight detail. Nothing that you can make out out. To say I was dissaponited was a understatement.I under stand that there is 12 in the picture above but the lat two where the same,I think you get the picture.
As you can see in the pictures there was two that kinda turned out both had diffrent ways though and both where took inside at room temp and all that jazz. Below is these two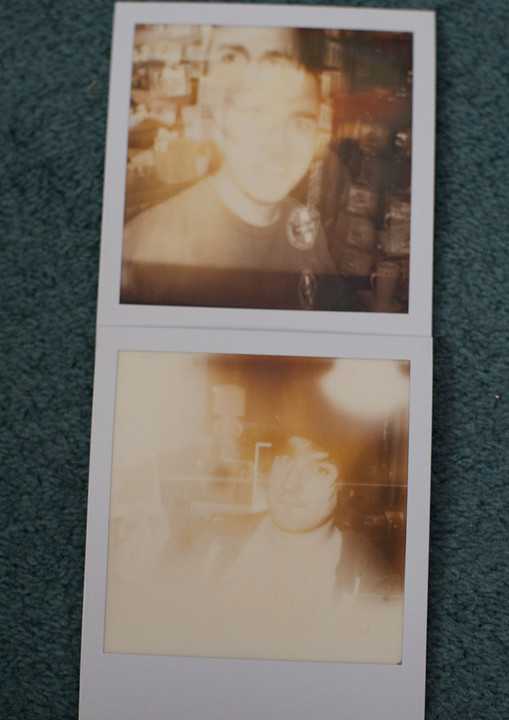 Personally at the time I was sure that it wasn't a finished process but it seems that is the finished product although now I have used around 8 packs its still a hit or miss situation with the film,I have had some really nice results but I also have had about 50% not come out and its never consitent the problems. One pack every picture came out really really dark with little to no detail and i shot in diffrent lights sources/outside/inside and with flash.
The only good thing about it so far was that The Impossible Project have offered to help me out with 2 packs that had spoilt although I am just to contact them about the other 2 packs yet.
I think as of yet as much as the results can be nice,its a very expensive experiment,as you dont know if you are going to get a good pack or bad pack.
Which is the major problem for me,Having to spend £20 odd on a pack of film to have none turn out is going to get people turning there back on the product quickly.
Me,Not yet have I turned my back but as a feasible backup Fuji Instax seems to be the ticket at present. The pics are nearly the same as polaroid and the results seem consistant plus they are color too.
Im gonna blog again soon about this film and hopefully next time I can say that all the results are like old polaroid,I think that maybe some time off yet though
I would Like to thanks a few people at the end though
Stephanie for taking the time out of her busy day to help me out even though it seemed as if it was a complete failure( Next time tho it'll work i promise)
Leslie @ Fat Buddha - For the film and being a allround good guy. Check out his shop,its really cool and not only does it sell polaroid stuff but lomo and lots of cool other brands too
Stephen Rowan too not to forget.