Downhill MTB World Cup // Fort William
09 June 10
Posted at 9:25
Rd 2 of the UCI world cups and it was my home one too. A poxy 3 hour drive and I was there.
So I was going to blog everyday but with the internet at the bottom of a mountain and quite a few miles to civilisation I wasn't hoping for the best really. It was ok for sending stuff even though it took a while but uploading on here it just wasn't having any of it. So I decided to go out in Glasgow last Thursday night and drive straight up after. I felt so bad the next day and that was with me with not one drop of alcohol either.
The words death warmed up seemed to sum it up me on friday nicely,having had 1 hour sleep since thursday 8am it wasnt the greatest of my ideas.Never again. Well maybe next week.
So I got up there for 8am on Friday morn,got my shit together,and made sure I remembered the Jaffa Cakes,can't take photo if you have no energy and they helped me through the full the full weekend until I ran dry on sunday,but I will come to that later.
So the weather was meant to be sunny friday,and rainy the rest something that I wasn't really looking forward too but we are in scotland and as usual you have to prepare so i brought my leather jacket and hat. They would have kept me dry,had it rained but for us it turned out to be the BBC's not so awesome weather forcast was wrong again.
So not only was I looking for good shot of people riding bikes, I was on the hunt for some diffrent stuff too. I think it's hard to get something totally diffrent when there are so many people these days with digital cameras but not only that some are really talented at what they do.So I tried my best this year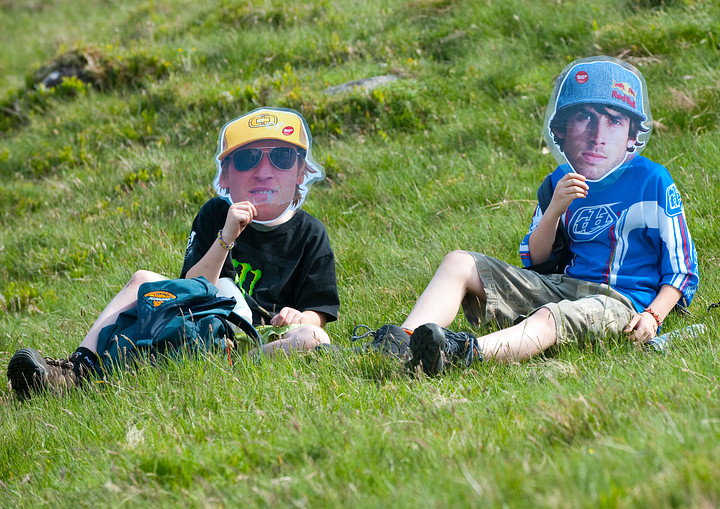 So at the world cups there's always some quirky ideas that the fans have,this was my favourite though. Gee Atherton and Steve Peat are some of the heros of the UK fans so its nice to see that the fans appricate them and i'm guessing that the riders also do.
The week was over in a blur really. Friday I couldn't wait till it was bed time as I was so tired.
Saturday was the usual DH practice till lunch and qualifying in the afternoon then 4X racing at night. That was fun as the weather on saturday was even better than friday,not only did I get some great shots that I was pretty pleased with. I also got a bit of a tan too. Get in I thought.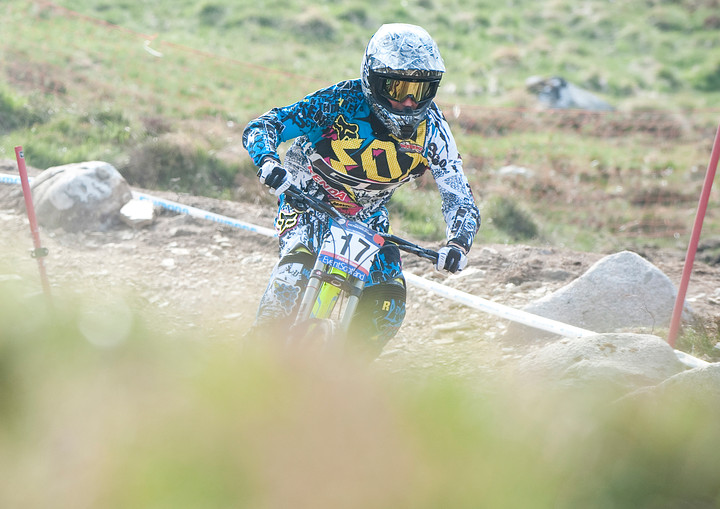 I couldnt get out my bed this day so was mildly late but a firm grilling for anka sorted me out and got me up the hill.Sunday is all about the DH bit of practice in the morning then its all buisness at 2pm as the finals kick off. So finding a nice spot was key,I went for the Visit Scotland Jump which was slightly diffrent to what everyone else seemed to be shooting and was close enough for me to rush down to the bottom when the winner was announced.
Overall it was a great weekend and it was topped off by a amazing dinner with some great folk and a good laugh too.
For Austria I will need to remember more Jaffa Cakes I kinda ran dry on them come sunday but it's been noted and Im ready to purchase a pallet for then.
Now the part where I thank everyone that helped me over the weekend.
I would like to thank Sven/Anka Martin,Gary Perkin,Geoff Waugh,Fergus and Tom Lamb. You all know what you did and it was a pleasure.
New comment